Metal Roofing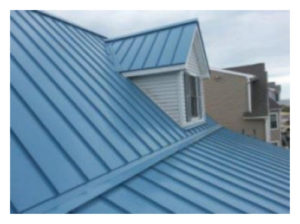 Metal roofing is now available in a variety of types. Shingle, Standing Seam and Tile just name a few.  It is a long-lasting, low maintenance alternative to traditional asphalt shingles. While asphalt shingles may have lower upfront costs metal roofing can last 50 or more years with minimal maintenance or repairs. A metal roof is also fire resistant and energy efficient, reducing your cooling costs by 10-25%.
Versatile: Metal is ending up growing in number as a flexible alternative. We provide various shapes, colors and densities of metal roofs. Such as shake, slate, standing joint, tile and obviously, conventional shingles.
Metal roof shingles can be made from several products such as:
1. Zinc or Aluminum covered Steel.
2. Stone covered Steel.
3. Lead and Tin covered Soft Metals.
4. Copper.
5. Aluminum.
Call us today for a free estimate on having a metal roof put on your home

(503) 557-8989

 or Email us at

[email protected]