Single-Ply Roofing

---
SO HERE IS THE RUNDOWN FOR SINGLE PLY ROOFING MEMBRANES
The Benefits of Single Ply Roofing
Are you trying to decide on the best roofing system for your flat roofed building? Single ply roofing has become an increasingly popular flat roof covering over the last few years. Essentially, a single ply membrane roof is comprised of flexible sheets of synthetic polymer that can be divided into two main groups, thermoplastics and synthetic rubber. When it comes to making such an important decision, we at Nail It Roofing and Construction understand how important it is to make the right choice. You need to make a roofing selection that will make your building appear professional to make a good first impression on potential customers and clients. Even more than that, you need it to be dependable and durable, requiring very little maintenance and upkeep. Then, with your roofing problem handled, you can focus on doing what you do best: running your business. Single ply, low slope roofing may be your answer but which one?
Why You Should Opt for Single Ply Roofing
At Nail It Roofing Co., we are experts in the commercial roofing industry. We know what works in the long run, and have a lot of experience regarding the benefits and disadvantages of roofing materials. There are a lot of reasons to opt for single ply roofing for your commercial or flat roof residential roofing material. Their factory manufacturing ensures consistent quality and durability. The membranes are flexible, and they are relatively easy to install compared to other popular roofing options on the market.
It is also one of the more competitively priced options that the market has to offer. This effectively saves home and business owners like you money on roofing without compromising quality.
What's more, the material is highly reflective, which keeps your building cooler and consequently helps cut down on energy costs. For those looking to save money on their energy consumption, or to reduce their carbon footprint, a single ply membrane roof is the way to go.
If you are looking to find a roofing material that is able to accommodate an unconventional roofing design (common in modern architecture), single ply membrane roofing is an ideal choice for you! The lightweight quality of the material makes it flexible and versatile which makes many things possible.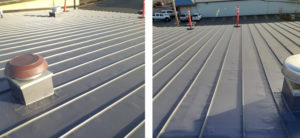 This roof is actually PVC but the ribs give the roof a metal roof look.
For information on a few of the types of Single Ply Roofing available see our commercial roofing page. It is no wonder that single ply roofing membranes have gained so much popularity in the past 30 years. If you think single ply roofing sounds right for you, call Nail It Roofing and Construction for a free quote today at.