Roof Repair
Roof Repair Portland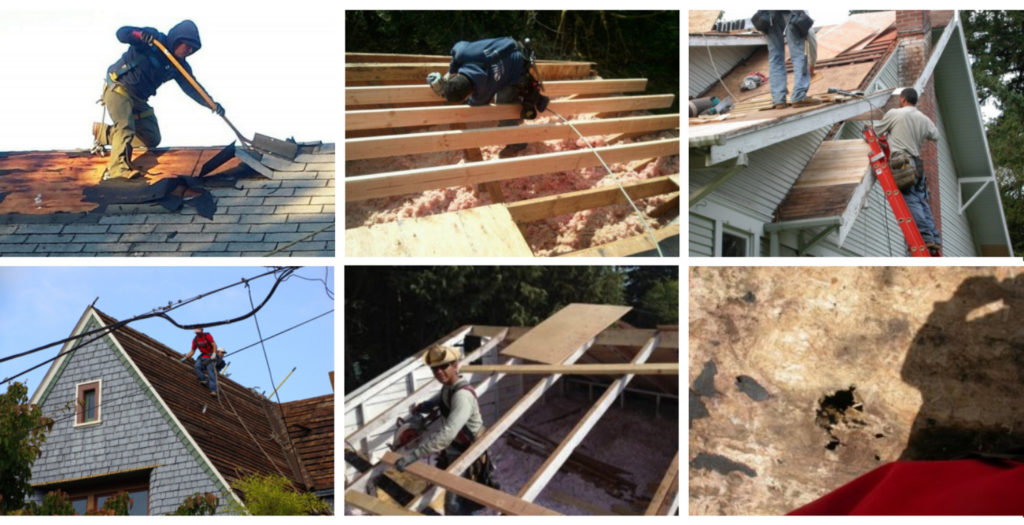 We can repair or replace small areas damaged by storms, wild life or time so you avoid leakages and extreme structural problems later on. Roof repair is a vital part of home upkeep and picking the right roof professional is the first step.
Roof repair work has numerous variables; the pitch of the roof, the roofing materials, and the kind of damage that needs to be repaired all play a role in identifying the ideal strategy for repairing each individual roof. Too often, roof repairs are being done incorrectly or with alternative roofing materials, to the detriment of the historical stability, look and sometimes quality of the structure.
If little issues go overlooked for extended periods of time, the damage (as well as the repair costs) can easily grow into something far less manageable. Leaks, wetness, and mildew are simply some of the visible symptoms that your roof needs attention.
Fixing your roof is sometimes thought to be more economical, but you might need to consider roof replacement. That takes place when your roof is 15 – 20+ years old, or has already been repaired in the past. If this is the case, we will let you know before we do the repair so you can decide what is best for you and your roof. (Please note we do not do repairs on areas that have already been repaired in the past or have more than one roof layer on them.)
We have a $300.00 minimum and offer no warranty on repair work. We apologize, but it's difficult to warranty work that was originally done by someone else and needed to be repaired. Please note if your roof has more than 1 layer of roofing and is leaking it's is probably time to get a roof replacement.
Check out our reviews on Google and Facebook and let our other customers share their experiences working with us.
Call 503-557-8989 or email us at [email protected] – to schedule your free no obligation roof replacement estimate.